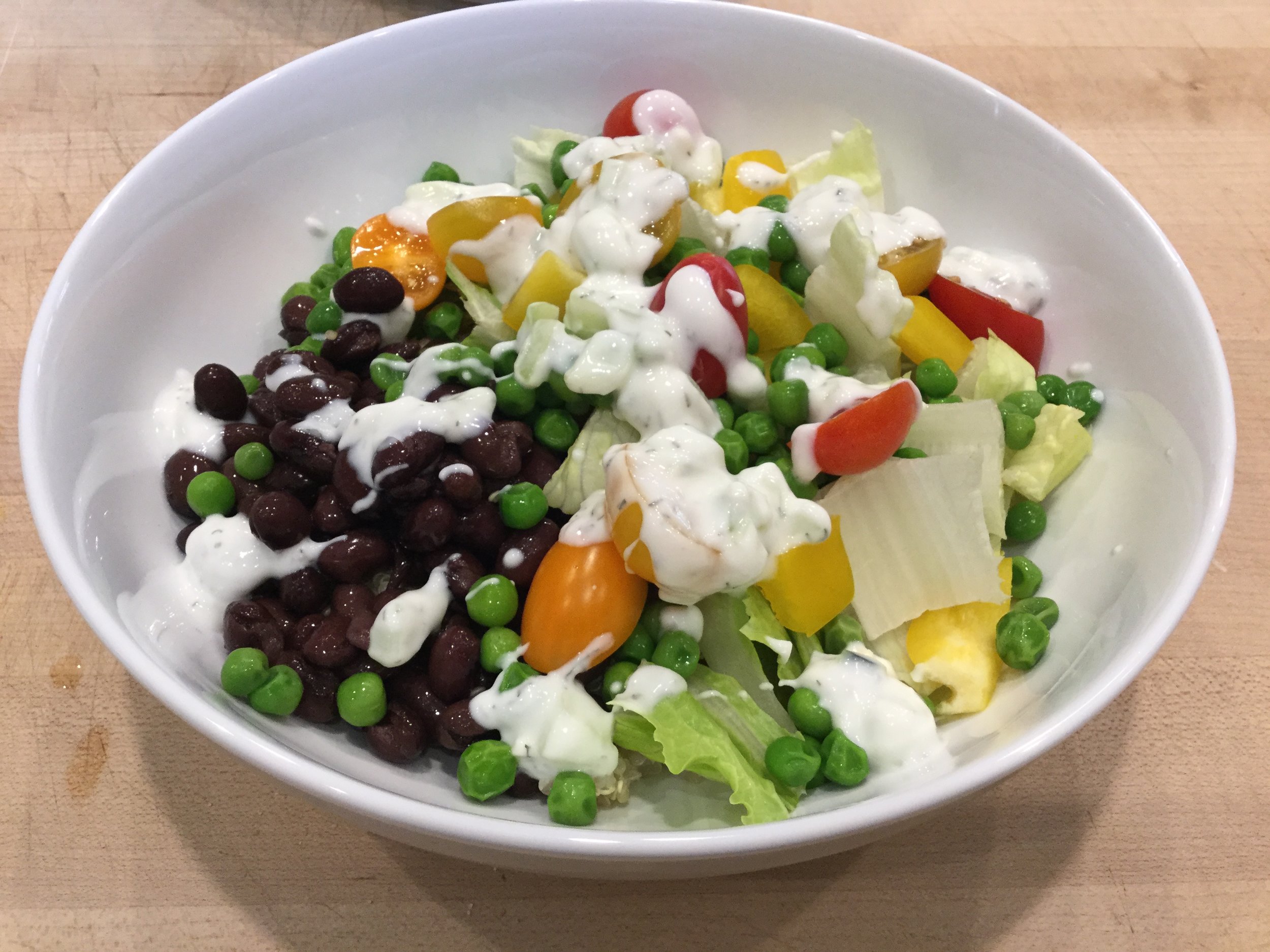 I admit to being late to the quinoa bowl party. I've been eating quinoa for quite a few years, but mostly enjoyed it as a side dish and usually warm. The other day I was busy all day and wouldn't be getting home until 7:30 and wanted to make something unfussy that could be put together in a few minutes after I got home. Enter the quinoa bowl. When I had a little time in the middle of the day I prepared some quinoa. While it cooked I chopped up some veggies and opened a can of unsalted black beans and drained them. I also made a quick and simple taziki sauce. I was done chopping about the same time the quinoa was finished cooking. Quinoa, veggies and beans were all placed into individual bowls and then into the fridge. When I got home that night, it was a simple and quick matter to assemble it all and dig in. Supper fresh and delish. Also very flexible. You can use whatever veggies you have on hand, are fresh at the store or happen to be growing in the garden. You can also use whatever proteins you like, including leftovers. And even better, you can customize each bowl for every family member. So, I highly recommend you give this a try.
Ingredients

For this version, I used black beans, Romaine lettuce, yellow bell pepper, cucumber, tomato and peas. I added some leftover grilled chicken for Karen. The peas go particularly well with the quinoa and I'm a sucker for cold peas. You could also use broccoli, cauliflower, chard, kale, roasted beets, onion, avocado, fennel, carrot, celery – well, you get the idea. Pretty much anything will work. As for protein, my quinoa bowl was vegetarian, with the beans and quinoa providing plenty of protein. Karen's included diced chicken, leftover from the night before. You could use fish, seafood or any kind of meat or meat-substitute that you had on hand.
For the sauce I made a taziki. 1/2 cup of plain no-fat yogurt, 2 cloves of minced garlic, 2 tablespoons diced cucumber, a little salt, ½ teaspoon dill, and the juice of ½ lemon. Mix it together and let it sit in the refrigerator for a few hours some the flavors will meld. You could also use a tahini sauce or any other that would taste light a fresh, like a simple vinaigrette.
To prepare the quinoa, the norm is 2 cups water (or stock) per 1 cup quinoa. Remember to rinse the quinoa, which removes the bitter out coating on the seeds. Bring quinoa and water to a bowl, add a little salt, cover and reduce the heat to low. Simmer for 15 minutes, then remove from the heat, uncover and stir to let it cool. This will make enough quinoa to make 4 good-sized bowls.
Assembly
To assemble, start with a base of quinoa in a wide bowl. You can pile it on from there however you like. My preference is to put the protein in a mound and then add the lettuce or other greens, with the other veggies sprinkled onto the greens. The sauce then gets lightly shaken on top of it all. You can now mix and match your bites however you like.